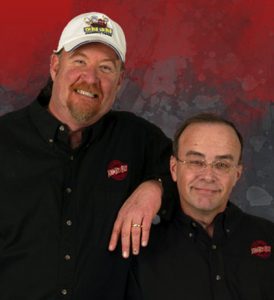 Monday, Tuesday, Wednesday, Thursday, Friday, Saturday -- 06:00 AM - 10:00 AM

John Boy
When and where were you born? March 28th, 1956 – Alamance County hospital Hometown and high school? Graham, NC – Graham High School Education? 4 Years College eligibilty left Hobbies as a child? Directing a pretend choir ( like Mama – she was a choir director ), driving a go kart ( age 5 ), Hunting with Dad Favorite food? Anything my wife makes me like moms Favorite movie? O Brother Where Art Thou? / No Time for Sergeants Favorite song? Had Hundereds, Right Now, Wagon Wheel Current hobbies? Anything on or around the ocean. Hunting Turkey, deer, Duck, dove. Duties with The Big Show? Being John Boy How did you start in this business? Running Sunday morning tapes at my hometown radio station in 1975 Any entertainment background you want to include? Yeah, but I don't have any….Wait! I had a role in my senior play…only play in GHS history to be called back for a 3rd performance during the week! Ta Da!!! Any odd habits? I set my watch and the clocks in my bedroom to different times, so I'm not ever sure what time it is! Are you married, and if so, how long? 33 years Children…first names and ages? Jonathan – 26, Michael – 24, Matthew – 22 Pets? 3 dogs – Pearl, Minipearl, Spud. What famous person would you like to meet ? That girl from Baywatch If you could be any one person for a day…who would it be? That guy from Baywatch First car? 1970 350 – Honda Motorcycle, VW Beetle First job? Pumping gas – Archdale Service Station – age 16 in Graham Favorite saying? "No, huh-uh and where ya'll goin' later?" Best memory on the show? Broadcasting from my house – I was late! (true!) Most interesting guest? When I interviewed myself at the racetrack Hopes for the future? A nap! Did you mean after today??!!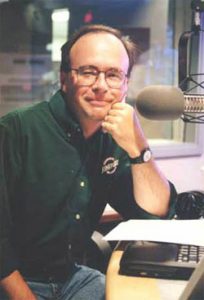 Billy
Where were you born? December 11. Gastonia, NC Hometown and high school? Gastonia, NC, Hunter Huss High Education? National School of Broadcasting, Atlanta, Ga…Yes, really Favorite pastime? Tivo, baby! As a child, what did you want to be when you grew up? Taller. Duties with the Big Show? Co-host, writer, guy who listens while JB talks so that if/when he gets lost, I can help him find his way back to what he was talking about. Favorite food? Beef: it's what's for dinner. Favorite movie? Star Wars, Raiders of the Lost Ark, Coal Miner's Daughter, The Apostle, The Accountant…do I have to pick just one? Favorite song? Too many to list – but I like almost any good early-1970s R&B. Favorite band of all time? Why do you keep asking these questions that have multiple answers? How did you get started in this business? Wrote a letter to a local program director, who was kind enough to invite me over to the station one Saturday afternoon. I was hooked. Any entertainment background you wish to include? This job is pretty much it. Any odd habits? Define "odd." You're not a cop, are you? Marital status? Active. Oh did you mean…? Yeah, Polly and I have been married since 1985. Children? 2 – David & Andy. What famous person would you like to meet? Famous people are, as a rule, nuts. But I'd enjoy having lunch with Jerry Seinfeld. If you could be any celebrity for the day, who would it be?? The person my dogs think I am. First car? 1967 VW Beetle What would be your ultimate vacation? Finding out I won the lottery while on a trip to Hawaii. As James Gregory says, "Y'all would never see my fat a** again!" First job? Gofer/handyman at Scottish Inn Motel in Gastonia, NC. It's what convinced me I needed to find something where I didn't have to actually work for a living. Mission accomplished. Favorite saying? "It ain't what they call ya – it's what you answer to." Best memory on the show? Too many to list. It's a pretty sweet gig. Most interesting guest? Tim Wilson is almost always pretty good, as is James Gregory. Hopes for the future? I get word I won the lottery on my next trip to Hawaii. And if that doesn't work out… success, good health and happiness for my kids. Anything else you would like to add? I've said too much already.
---